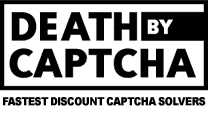 MailBot account creator updated to version 12.59.
Implemented full support of native Death By Captcha API, old and well-known CAPTCHA solving service.
This was done due to the fact that Death By Captcha does not support new CAPTCHA types (reCAPTCHA, FunCAPTCHA, hCaptcha) in its 2Captcha / ruCaptcha and Anti Captcha API emulations.
You can work with this API via username and password of your Death By Captcha account or via an API key (Authentication Token). In the first case, you need to enter your username and password in the "API key" field of the "CAPTCHA Service Account" form in MailBot in the following form:
username:password
In the second case, you must first enable two-factor authentication (TOTP) for your Death By Captcha account, then at the bottom of the same page you will be able to generate an Authentication Token (API key).
Prices for different CAPTCHA types:
| CAPTCHA type | Rate (cost per each 1,000 captchas solved) |
| --- | --- |
| Text or math | $1.39 |
| reCAPTCHA v2 | $2.89 |
| reCAPTCHA v3 | $2.89 |
| FunCAPTCHA (Arkose Labs CAPTCHA) | $3.99 |
| hCaptcha | $3.99 |
Pros:
supports solution of reCAPTCHA (v2 and v3), FunCAPTCHA and hCaptcha
very quickly Read more »