MailBot account creator updated to version 10.40.
According to numerous requests adding of alternative (recovery) email to an account was implemented in Yahoo and AOL creators: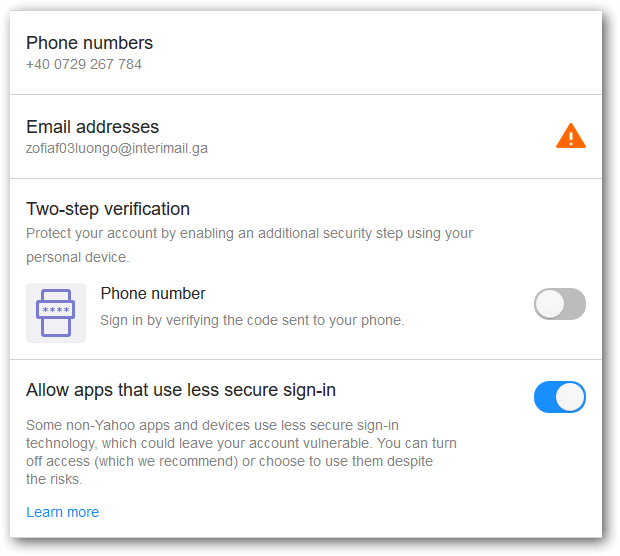 Confirmation of alternative email is not implemented yet, but Yahoo / AOL still allow you to use it to sign in to your account and recover the password.
Also implemented in MailBot 10.40:
support of SMS sending form with a delay of 60 seconds in the regular Mail.ru creator
locked accounts detection in WP.pl checker
cancellation of the current SMS activation in case of wrong CAPTCHA code error
Phone number country lists updated:
for SMS-Activate.ru Guinea, Mali and New Zealand were added
for SMSPVA.com / SIMSMS.org Belarus, Haiti, Gambia, Ghana, Guinea, Egypt, Yemen, Cambodia, Kenya, Côte d'Ivoire, Mali, Serbia, Finland, Chad, South Africa were added and Czechia was deleted
Fixed:
avatar uploading in Outlook, Yandex and Rambler creators
an error in Yahoo and AOL checkers, when valid accounts were detected as locked
disabling antispam and wrong reCAPTCHA code detection before sending an SMS to a phone number in regular Mail.ru creator
"413 Request-URI Too Long" error after successful creation of AOL.com account
EFormURLNotFound error in Meta.ua creator
ETokenNotFound error in Mail.ru checker
locked accounts detection in Yandex checker
POP3 / IMAP / SMTP activation in Web.de creator and checker
fixed support of Death By Captcha service in Anti Captcha API v1
in SMS-ONLINE.pro API activation is now cancelled if the phone number is already used
wrong reCAPTCHA code detection in Onet.pl creator
generation of "pageurl" parameter when solving reCAPTCHA in Mail.com and GMX.com creators
Написать ответ
Вы должны войти чтобы комментировать.