MailBot account creator updated to version 7.50.
According to numerous requests and after a long wait finally implemented loading the proxy list from a file: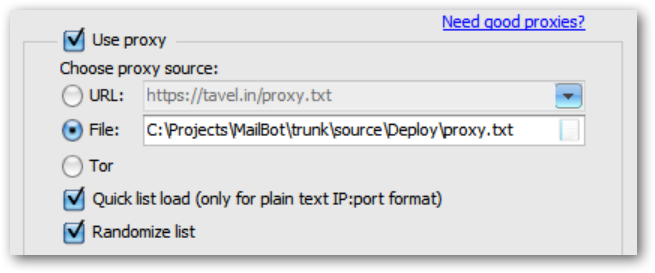 At the same time it is now easier to use Tor as a proxy source.
Also implemented:
external IPv4 address of computer running MailBot is now displayed in the "Network" panel on "Options" tab:

support of sending wrong CAPTCHA code reports in Anti Captcha API v2
support of SMS-service sms-get.co, to use it you need to choose/enter domain sms-get.co in the "Domain" field of "Verify by SMS-AREA API" panel on "SMS" tab in MailBot
disabling antispam in I.ua creator
setting to save account creation date is added on the "Export" tab:

output to the log message that the username is available for registration after checking the username for availability:


19:45:19: Thread #1: Username nina.moiseeva.1989 is available for registration on mail.ru domain
Fixed:
Rambler.ru creator: mandatory SMS-confirmation of accounts canceled, now accounts are created only with reCaptcha v2
"HTTP/1.1 503 Service Unavailable" error in Meta.ua creator, confirmation is now done on mailboxes of temporary email service temp-mail.ru
getting balance for onlinesim.ru SMS-service in SMS-REG API
Написать ответ
Вы должны войти чтобы комментировать.