MailBot account creator updated to version 12.98.
Account creator and checker of Norwegian email provider Runbox was implemented.
New service is located on the "EU" sub-tab of the "Provider" tab.
There are 29 domains at your service:
@runbox.com
@mailhost.work
@mailhouse.biz
@messagebox.email
@offshore.rocks
@rbox.co
@rbox.me
@rbx.email
@rbx.life
@rbx.run
@rnbx.uk
@runbox.at
@runbox.biz
@runbox.bz
@runbox.ch
@runbox.co
@runbox.co.in
@runbox.dk
@runbox.email
@runbox.eu
@runbox.is
@runbox.it
@runbox.ky
@runbox.li
@runbox.me
@runbox.nl
@runbox.no
@runbox.us
@xobnur.uk
as well as active access via IMAP, POP3 and SMTP.
It is enough to solve one hCaptcha and specify an alternative email to create Runbox account. You can use "Use randomly generated temporary mailbox" setting on the "Accounts" tab. POP3 / IMAP / SMTP activation occurs automatically after account creation.
Both the Runbox creator and checker support the creation of up to 5 aliases for each Runbox account. To create aliases, enable the "Create aliases" checkbox on the "Accounts" tab and select an exact or random number of aliases to create. Created aliases are saved in a separate file named "Runbox 2021.05.17 – 16.29.07 aliases.txt" in the "Accounts" folder.
Important! Each alias accepts mail on all 29 Runbox domains! That is, by creating 1 Runbox account and 5 aliases for it, you will immediately receive 1 + 5 × 29 = 146 different mailboxes for receiving mail!
Also, creator and checker support enabling two-factor authentication (2FA) by TOTP algorithm for Runbox accounts. To enable it, you must check the "Activate two-factor authentication (TOTP)" checkbox on the "Accounts" tab, as well as the "OTP secret key" checkbox on the "Export" tab, so that the secret key is saved along with the account data. To further log into an account with 2FA enabled, you can use the "TOTP" button on the "Accounts" tab, which opens a form for generating a TOTP code: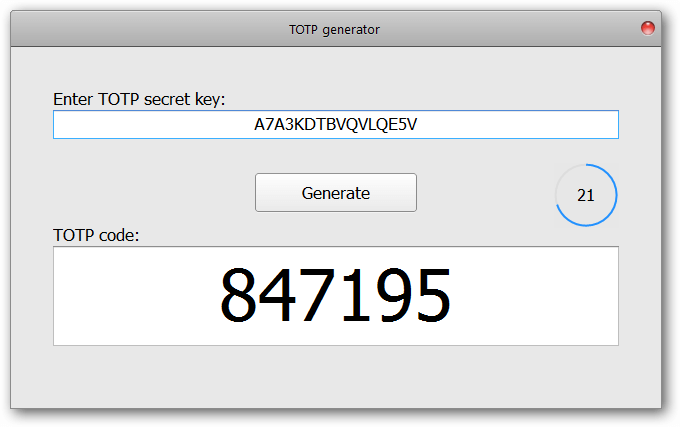 Important! Welcome email for each new account says:
In the meantime you can try the service for free for a whole month…
which means that the account will work for free for one month.
As always, the update is completely free of charge for users of the full version of MailBot. The rest of the clients, as always, can
buy Runbox account creator and checker with 50% discount (you can calculate your price including discount here).
Also in MailBot 12.98, reCAPTCHA Enterprise solution for Yahoo / AOL.com is implemented.
Write a reply
You must be logged in to comment.