MailBot account creator updated to version 5.84.
Yahoo creator restored! SMS-verification of Yahoo accounts was implemented.
Rules of the new Yahoo mail (these are the limitations of Yahoo itself, not MailBot):
accounts are created now only after SMS-verification
only 1 domain is available for signup: yahoo.com, all national domains (yahoo.co.uk, yahoo.ca etc.) are no longer available for registration
POP3/SMTP are enabled in Yahoo account settings now, so to activate them in MailBot you must enable "POP3″/"SMTP" checkboxes on "Accounts" tab
Therefore, SMS-verification is currently supported by Yahoo, Mail.ru, Rambler.ru and Yandex creators.
Support of SMSPVA.com (SIMSMS.org) native API was implemented!
SMSPVA.com – one of the cheapest SMS-activation service, price starts from $0.03 (for Outlook activation) per SMS.
If you don't have smspva.com and simsms.org domains in "Domain" combobox in groupbox "Verify by SMS-AREA API" on the "SMS" tab – just add them manually: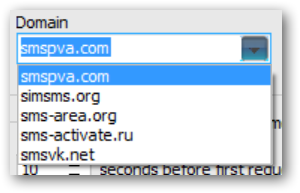 Also in version 5.84:
support of service codes was implemented in SMS-REG and SMS-AREA API, code "Other" is selected now only if SMS-service does not have corresponding code for selected mail service
"503 Service Unavailable" error handling during receiving SMS status was imlemented in SMS-AREA API, handling of ACCESS_CANCEL_GET status was also implemented
Написать ответ
Вы должны войти чтобы комментировать.