Почтовый регистратор обновился до версии 5.36.
На вкладку "Чекер" добавлена новая опция "Разблокировать аккаунты":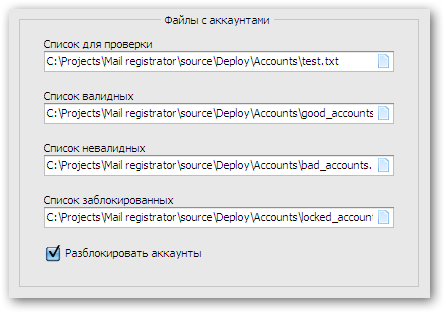 Пока разблокирование аккаунтов доступно только в чекере Рамблера. Разблокировка одного аккаунта требует распознавание одной кириллической капчи. При разблокировке меняется пароль, аккаунт с новым паролем сохраняется в список валидных аккаунтов.
Важно! Если POP3/IMAP/SMTP в аккаунте Рамблера на момент блокировки были отключены, они останутся отключены и после разблокировки. Если были включены – останутся включены.
На вкладку "Аккаунты" добавлена новая опция "Отключить антиспам":

Отключение антиспама пока реализовано для регеров Mail.ru и QIP.ru.
Также в версии 5.36:
исправлен авторегер Outlook
регер Рамблера теперь перезапрашивает капчу, если полученная капча оказалась пустой:

1 Comment to "Mail account creator 5.36. Rambler unlocker, disable antispam in Mail.ru and QIP.ru"
1. aleksander8887:
February 8th, 2016 в 10:57

То что нужно лично мне – функция «Разблокировать аккаунты»
Спасибо tavel.in, продолжайте в том же духе!
Написать ответ
Вы должны войти чтобы комментировать.